The Asterplace Happy New 'Yeah' Party at Smash Studios in NYC
Date: 2015.03.23
Concert
Date of Concert: 2015.01.09
Image © 2015 Syreeta Turner
For many people, an exclusive party celebrating the New Year with food, drinks and a live rock show sounds like a music lovers dream, but for 25 fans of NYC local Japanese band
The Asterplace
, it became a reality. And Smash Studios, in the past housing many famous recording artists from Far East Movement to David Bowe, was the perfect place for this event.
The large showcase room resembled a rehearsal studio but with a more elaborate stage set up, tables, chairs and a big couch for lounging. There were large amounts of food [all made by
Asterplace
vocalist,
Kota
], sodas and alcoholic drinks/beer for the 21+ crowd. With another popular local band as an opener and a one of a kind band from Italy to co-headline, this was sure to be an unforgettable night.
The opening band, NYC's own
The Underground Channel
, got the crowd warmed up while people ate, laughed and jammed along with the music. With an easy to listen to sound in any atmosphere
The Underground Channel
will surely not disappoint. The members have a great sense of humor as well, you will surely have a laugh with these guys!
After a short break, it was time for what I can only describe as one of the most unique duo performances I have seen in a very long time,
K-BLE JUNGLE
.
DJ Shiru
and
Eriko
[Vocal] are incredible!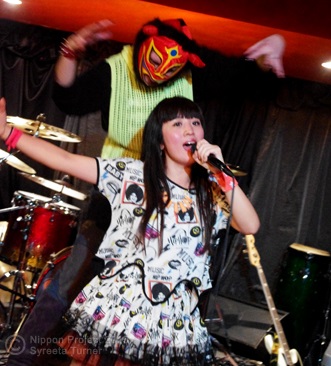 Their balance of theatrics and musical performance is phenomenal. They do it all; Anime theme covers / idol hits, edgy pop rock jams, even a creepy yet mesmerizing kabuki style number where
Eriko
shows off her classically trained opera voice. During the set,
DJ Shiru
managed to throw in some funny MCs between songs and for one of their songs they invited members from other bands onto the stage and taught everyone some moves to go along with the music. They turned that room it into an actual dance party!
Lastly, Tokyo style pop punk band,
The Asterplace
always brings it with non-stop energy that makes the crowd go wild! In my opinion they are, hands down, one of the most entertaining Anime Rock bands out there! Making fans laugh while dancing onstage to popular 90's hits like 'Macarena'. But rocking out and goofing onstage isn't all these guys have in their bag of tricks. Interacting and playing games with the fans is what they love to do most in their sets. [It's one thing that keeps the fans coming back for more.] This time the game was a bet to see who could drink a can of beer the fastest. The winner received $20. They closed out the set with their cover of 'Blitzkieg Bop' and had everyone shouting and singing along by the end. The stage got so crazy!
Kota
was playing his guitar on the floor while
DJ Shiru
, camera in hand, recorded the finale. These guys can literally rock a party. It was their party after all! The night was non-stop fun, a night all who attended will remember beyond the next New Year, no doubt!