Swinging Popsicle Interview at Shindaita FEVER
Date: 2016.06.24
Interview
Date of Interview: 2016.04.30
It has been 21 years since
Swinging Popsicle
first formed in 1995. They call themselves a "guitar-based pop band for adults", and have been constantly producing music ever since.
On the 30th of April, they performed at "POPS Parade Festival 2016 -Spring Music Party-" at Sindaita FEVER in Tokyo. They spent about 30 minutes before the gig with us for an interview.
Congratulations on Swinging Popsicle's 21st anniversary!
All
: Thank you!
Could you tell us about your personal roots in music?
Shimada
: I was influenced by a TV show called Best Hit USA at the time. I must have been in junior high school when I was watching the program. Me and my friends were into foreign music like REO Speedwagon, Wham! and so on.
Fujishima
: I began listening to foreign music on the radio when I was in about 5th grade. I was always listening to music and wanted to become a musician, but it was after moving to Tokyo to attend university that I actually formed a proper band. I think it was quite late. I first played in a band for a club at my university.
Hirata
: I was into baseball until high school. I got into the school that was quite famous for having a strong baseball team. Some of us were even going to the Koshien national baseball tournament. I gave up on baseball and me and my friends thought about forming a band together for fun.
How did you come up with the band name "Swinging Popsicle"?
Shimada
: We were playing pop music so I wanted to have the word "pops" in the name like "popsicle". Popsicle itself is fine but I felt something like was missing. I thought it'd be better to have "ing" lik
e The Rolling Stones or The Smashing Pumpkins
. I loved British 60s music and was reading a magazine called Studio Voice when I found an article titled "Swinging London Sixties". I took "swinging" from there and added the popsicle. That's how I came up with the name Swinging Popsicle in the end.
What was your impression when you first heard the band name "Swinging Popsicle"?
Fujishima
: He wrote it down for me. I thought it was cute but when I read it out, I realised it's quite difficult to pronounce for Japanese people. It'd probably alright for people who are used to the English language.
Hirata
: It's not so easy to memorise or pronounce it but when Jenny from
Cloudberry Jam
came and told us that she liked it I took a liking to the name even more.
What do you remember about your major debut in 1997?
Hirata
: It was the 3rd gig after forming the band. Someone from SONY Records came to see us at Club Que in Shimokitazawa. He told us that he would contact me later. A few days later, a director from the record company phoned me and just said "Welcome to the Sony Music!"
Fujishima and Shimada
: I didn't know that!
Hirata
: It's weird to tell you guys now, but that's how it happened!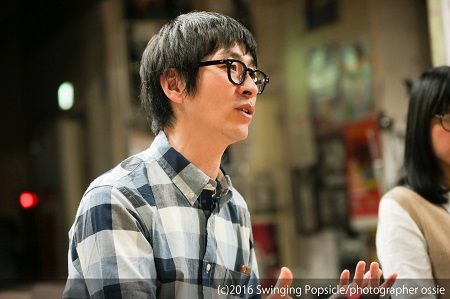 You've been together for such a long time, did you have any tough times?
Hirata: Fortunately, we debuted smoothly and everything seemed fine at the beginning so when SONY Records ended the contract with us, we took it quite hard. On the other hand, just after the incident, a South Korean label approached us and released songs and invited us to South Korea. Then it led to other opportunities like going to America and Mexico for anime events. We had a number of tough times but every time something bad or sad happened, another lucky chance saved our band. It's been over 21 years already.

You've released a long list of songs by now. Is there any song that ended up sounding completely different?

Fujishima: Shimada-san, you have some, right?

Shimada: When we were with SONY Records, I used to make demo tapes to decide the arrangements with everyone else. It was fun but sometimes we spent a lot of time with the producer to discuss details. It wasn't easy. At the same time, I admit I learnt a lot from the experience.

Hirata: Our equipment to make music changed a lot. At the beginning, we were using a casette recorder or other multi-track recorder. We use Pro Tools on computers now. Everyone works individually without hearing other's opinions. In this way, nothing stops us and we can do what we really want to do.

Your CD and DVD covers are very smart. How do you decide images for your products?

Fujishima: Thank you.

Shimada: The latest one was designed by my artist/designer friend called Ms. Asami Hattori. I asked the other members what they thought about her design. The members both liked it so I offered the job to the designer.

Fujishima: We asked the designer for her inspiration after listening to our songs. Her image of the songs matched the colours of the album. Then we discussed it some more to bring the visual image to the concept of the album.

How do you feel about being categorized as "Shibuya-kei" or "Shimokitazawa-kei"?

Fujishima: It was a long time ago, probably about 20 years ago. We were categorized in that genre at the time. And now other bands followed that path and became new "Shibuya-kei" and "Shimokitazawa-kei". Of course, we are here today because of our past, yet we don't have specific opinions about it right now.

But is Shimokitazawa a special place for you?

Fujishima: After leaving Sony Records, our gigs and events were often held in Shimokitazawa. Shimokitazawa became like the primary base for our music. We made a lot of friends here. It's great seeing them continue their music.

I saw people with guitar cases on the train platform at Shimokitazawa. There must be many music venues and studios here.

Fujishima: So many! There are so many venues here in Shimokitazawa.

Hirata: Musicians from other regions usually come to Shimokitazawa for their first gigs. I reckon Shimokitazawa has the most music related things in Tokyo.

You are performing as a five piece band tonight. What is the major difference between having five members and your usual, three members?

Fujishima: It's completely different. Three is just three. A three piece band doesn't have a drummer so we depend heavily on vocals and focus on the backup chorus. Yet, when we have a full band with five members, it is easier to make the sound similar to what we have on the CD. It becomes "more groovy". It's very enjoyable.

Hirata: The supporting members debuted around the same time as us. I like the feeling of people playing Swinging Popsicle's music all together.

Fujisima: When it's just three of us, we just rehearse as planned. When we have more members, it becomes like a jam session. It feels more like a proper band because someone leads our regular rehearsal into a music session.

Hirata: (to Fujishima) You never sing with us. You're always just listening to us play.

Fujishima: I need to rest my throat!

I'd like to ask about your music. Your music has beautiful melodies. Where do you get your inspiration and when do you write your music?


Shimada: If I come up with a phrase or a tune, I usually record it with my iPhone. A number of phrases stay in my head and others get forgotten. Ones I remember for a while must have strength. They stay in my head, so it should have potential to stay in other people's heads as well.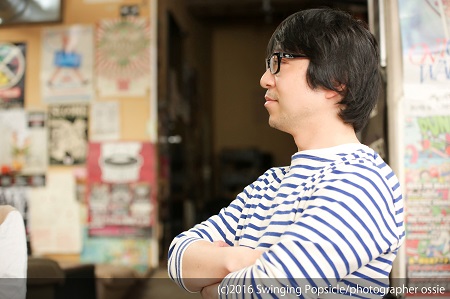 So you come up with phrases first?
Shimada: I come up with arrangement and words about the same time, too. I take the ideas and put them into my PC.

Could I ask you about "Kagayakashiki Nichijyo" for the PC game, Kimi to Kanojyo to Kanojyo no Koi?

Hirata: The PC game was released about two years ago from Nitro Plus. The director told us about the sort of music they were looking for. It was like an order-made song for the game. "Kimi to Kanojyo to Kanojyo no Uta" was the name of the album related to Kimi to Kanojyo to Kanojyo no Koi. The music was also guided by the director of the game.

Recently you've written songs for anime and games. Do these contents affect your music at all?

Hirata: Totally! I may think the song I make is perfect but if it doesn't match the content, it gets turned down. It is important that the song be suitable for the scenes of anime and games. We edit our songs numerous times by request of the creators of the titles.

Fujishima: Lyrics are the same. They provide us with some key words at the beginning. We rearrange them to build sentences. These songs are more for the anime and games, not so much for Swinging Popsicle.

Your covered Jackson 5 and Carole King. How do you choose which songs to cover?

Fujishima: Yes, I like them both. Some songs are easier to cover, easier to sing or to play. If it works, we play, record and perform. We don't make a list of songs and discuses what to play. It's simpler than that.

Shimada: Basically Fujishima is in charge of it.

You are giving away a DVD as a bonus with the purchase of your album. I heard it has scenes from your tour in Mexico. Could you tell us about your experience in Mexico?

Hirata: It's been a while. Almost eight years ago in 2008. There was a company called Japan Files, which was promoting Japanese indie music. They took us to events in the US about three times. They also took us to an anime event in Mexico.

Is it different to perform overseas?

Fujishima: The audience's reaction is different. In Japan, our audience watches us rather quietly. They clap their hands after each song. In Mexico, they were young teens. They screamed a lot during the performance. They even tried to take guitar picks.

Guitar picks on the stage?

Shimada: I had three picks on my mic stand. An audience member standing at the front row kept begging for the picks during the performance. These three were sub picks and I needed them as spares so I couldn't give them away. I actually apologized to the audience for not giving away my picks...

Fujishima: People from overseas are culturally very open-minded.

Hirata: They absolutely love Japanese anime and cultures. I'd say literally anyone, any musicians from Japan, can have a brilliant experience on stage.

What were you doing in your spare time in Mexico?

Fujishima: We filmed PVs. We had a lot of time to film there. It's nice to be able to show what we filmed in Mexico in "flow".

Shimada: I remember that we went to have Mexican tacos!

Hirata: We went sightseeing as well but even that was filmed.

Shimada: We visited some kind of museum and went shopping. The city was called Monterrey.

Fujishima: And some animals... it was like a pet shop/zoo. They were selling animals on the ground floor and then exhibiting other animals on the second floor. You can't really find that in Japan.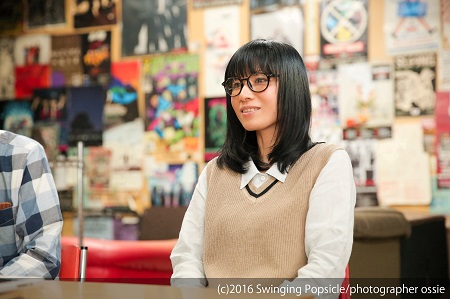 Did you experience any other culture shock?
Hirata: We had a macho bodyguard called James. He toured with us in Mexico.

Shimada: I call it a culture shock that cars on streets weren't locked! I thought it wasn't safe to leave cars unlocked in Mexico.

Hirata: You shouldn't open the doors!

Shimada: No, no. I saw it from outside. You can see how it's unlocked through the window.

Any plans to perform in Europe?

Fujishima: I've always wanted to go there! It hasn't happened yet.

If you go, what would you like to do?

Fujishima: I'd like to have concerts and check out the culture.
We will probably film, too. We get a lot of influence from European and American music so I want to visit there. I have visited London, Paris and Vienna privately before when I was at university but it'd be nice to visit again.

Shimada: Me too. I was 22 when I visited there.

Fujishima: We've all visited the same cities before, but not together.

Hirata: I've never visited Europe so I want to see music venues and bands there.

Shimada: I saw Squeeze at the Royal Albert Hall in London.

Hirata: Amazing. Squeeze! That's cool.

Shimada: We went to see the Abby Road Studio on the next day and then SSL factory. I attended music school and it was a school trip.

How are you feeling today for the gig?

Hirata: Many of us have been friends for a long time. It's good to see your friends perform on stage. I will get influenced by them and I'd like them to get influenced by us as well. We are into different kinds of music so each stage will be unique.

Fujishima: We are the last ones to go on stage. I wanted to perform a little bit earlier. Anyway, I'll do my best.

Shimada: It's been a while since we last played at Christmas so I want to enjoy the show with the audience.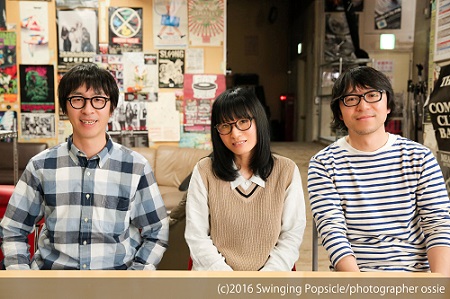 Could you give the readers of Nippon Project a message?
Fujishima: Swinging Popsicle tends to do things at our own pace. We haven't had a chance to go to Europe yet we will be there someday so please keep supporting us.

Hirata: Any event organizers reading this? Please contact us!

Fujishima: I want to do more gigs.

Shimada: Please check out Swinging Popsicle on iTunes. I'd like more people to listen to our music! Thank you.

Thank you for your time!


Reporter: Meiko Kikuta (Nippon Project)

Cooperators
Publicist: Makoto Kurosu
Photographer: ossie
Translator: Yuki Chiba