Titre / Artiste
Date
Type
Conférence de presse avec YOSHIKI et ToshI à Japan Expo
Date: 2010.07.09
Conference
Ce dimanche 4 juillet 2010 à 15h30, juste après leur premier showcase devant les fans français, YOSHIKI et ToshI donnaient une conférence de presse privée, dans une salle réservée de l'espace VIP de Japan Expo. Nous y étions, et voici donc le contenu de cette conférence.
SushiPartyCLub : Comment avez-vous senti le public français durant le concert ?
ToshI
: C'est la première fois pour nous que nous rencontrons le public français. Nous l'avons trouvé très réactif. C'était très agréable.
JaME : Peut-on espérer pour 2011 une tournée internationale avec plusieurs dates européennes ?
YOSHIKI
: Oui.
Animeland : Peut-on espérer aussi une venue en France ?
YOSHIKI
: Oui.
Quand ?
YOSHIKI
: Bientôt.
Orient-Extrême : Quand YOSHIKI était venu à Japan Expo, l'ambition d'X JAPAN était plutôt de bien finir le groupe. Maintenant, on dirait que c'est un nouveau départ. Quel est votre sentiment à ce sujet ?
YOSHIKI
: Pour être honnête, je ne sais pas... Nous ne pensions pas que cela durerait aussi longtemps... Comment expliquer... des tas de problèmes, incluant la situation de
ToshI
, ma propre situation, mais aussi les problèmes avec le management. Tous ces soucis combinés nous ont amenés à penser positivement, pour continuer à avancer. Il y a deux ans, nous voulions seulement donner de bons concerts, et une bonne image de
X JAPAN
et depuis cette réunion, nous avons décidé de continuer.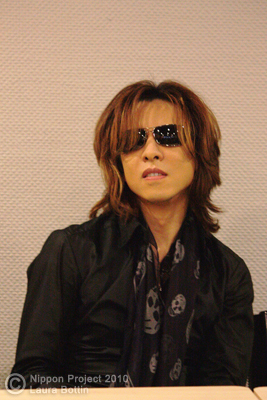 Nippon Project : Depuis la reformation du groupe, on a pu entendre plusieurs nouvelles chansons. Nous aurions aimé savoir si un projet CD va être réalisé dans les prochains mois, ou semaines ?
YOSHIKI
: Oui. Si possible, cet automne.
Journal du Japon : Le groupe a un succès international, et c'est assez rare pour un groupe japonais. D'après vous, qu'est-ce qui fait que votre musique est universelle, bien que vous chantiez dans une langue qui n'est vraiment pas commune ?
YOSHIKI
: La musique n'a pas de frontière, et est en elle-même une langue universelle. C'est pour cela qu'il n'y a absolument aucun problème.
Journaliste 1 : Une question pour ToshI : Vous avez une voix qui reste absolument exceptionnelle. Comment vous préparez-vous, et comment travaillez-vous pour garder cette puissance vocale ?
ToshI
: Je ne fais pas d'entraînement précis, je chante juste énormément. Heureusement, je chante beaucoup pour les enregistrements, et donc ma voix reste intacte.
Journaliste 2 : Je voulais savoir si vous preniez un plaisir particulier à chanter en français ?
ToshI
: Aujourd'hui, c'était la première fois pour moi de chanter en français. Et j'ai envie de continuer; je vois cela comme un challenge.
Journaliste 3 : Il était prévu une apparition de X JAPAN à Bercy, malheureusement annulée. Est-ce que l'on peut savoir ce qui a empêché cette venue en France ?
YOSHIKI
: Effectivement, le concert a été retardé trois fois de suite. En fait, il y a eu des problèmes de management, le concert a été annulé sans même nous prévenir. J'ai également dû subir une opération. Nous sommes venus aujourd'hui pour montrer notre respect aux fans français, que nous savons avoir déçus pour avoir retardé ces concerts plusieurs fois.
Jackpot Entertainment : Tous les membres du groupe ont une carrière solo plus ou moins florissante, et j'aurais aimé savoir à quel point cela peut influer dans la musique de X JAPAN, ou à quel point X JAPAN peut influer sur leurs carrières solo ?
YOSHIKI
: On voit ça comme une bonne chose, et on tire partie de ces expériences.
Et ça ne pose aucun problème pour la carrière de X JAPAN en elle-même ?
ToshI
: Ça ne pose pas de problème. Séparément, on trouve de nouvelles forces, on acquiert de nouvelles expériences qui viendront renforcer
X JAPAN
.
Journaliste 4 : Concernant le groupe S.K.I.N, avez-vous prévus de vous reformer pour refaire des concerts, sortir des single ou des CD ?
YOSHIKI
: C'est possible, mais il faut déjà finir
X JAPAN
avant de repasser à
S.K.I.N.
Et il faut que
X JAPAN
vienne en France avant.
Journaliste 5 : Je voulais savoir si vous suivez la nouvelle scène rock japonaise, et s'il y a des groupes que vous trouvez particulièrement prometteurs en ce moment ?
YOSHIKI
* rire *
:
AKB48
ToshI
* rire *
:
Morning Musume
!
Journaliste 6 : On sait que YOSHIKI est un grand fan de musique classique. Quel est son compositeur, son opéra, ou son morceau préféré ?
YOSHIKI
: Bien sûr,
Bach
et
Chopin
.
Journaliste 7 : X JAPAN est le seul groupe japonais à avoir un morceau jouable dans le jeu vidéo musical Rock Band. L'éditeur du jeu a fait un sondage avec J Rock Revolution pour savoir quels groupes les joueurs souhaitaient voir dans le jeu et X JAPAN est dans le top 3. Est-ce que d'autres titres vont arriver sur ce jeu ? Est-ce qu'un jeu dédié à X JAPAN pourrait sortir Japon ?
YOSHIKI
: Ce serait déjà bien d'avoir d'autres musiques pour ce jeu vidéo. Il va y avoir un jeu de pachinko
X JAPAN
, et peut être un jeu vidéo.
JaME : Lorsque vous avez formé X dans les années 80, comment pensiez-vous que le groupe évoluerait ? Est-ce que vous pensiez qu'il allait avoir un telle popularité à l'international ?
YOSHIKI
: On avait une certaine confiance, mais on ne pensait pas que ce serait aussi gros que ça.
Journaliste 8 : Je voulais savoir si vous aviez la nostalgie de vos débuts, parfois.
YOSHIKI
:
hide
nous manque beaucoup.
(Silence pesant dans la salle)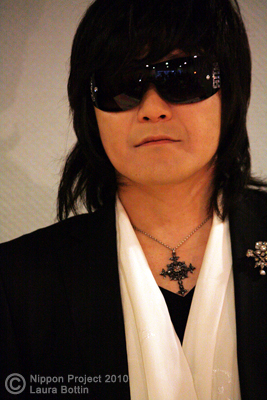 Journaliste 9 : Le titre
Art of Life
était une grande merveille. Est-ce que vous avez l'intention de refaire un disque ou un concert symphonique ?
YOSHIKI
: Oui. Là on vient de finir d'enregistrer
Song of Jade
, qui est en fait également très compliqué, très complexe. Donc pour l'instant, on n'a pas trop de projet pour une autre sortie.
Journaliste 10 : Il y a X JAPAN, il y a les carrières solo... Est-ce que vous arrivez encore a avoir du temps libre, et quels sont vos loisirs ?
(Rires de l'assistance)
ToshI
* rire *
: Je bois du vin français.
YOSHIKI
: Je n'ai pas de temps pour moi-même. C'est pour ça que j'ai rompu avec ma copine ! * rire *.
Journaliste 11 : Vous avez récemment retourné les clips de
Endless Rain
et de
Rusty Nail.
Pourquoi avoir choisi ces deux chansons ?
YOSHIKI
* rire *
: Parce qu'on les aime !
* rire *
On a aussi fini d'enregistrer
Tears
en anglais.
Journaliste 12 : Entre 2007 et 2008, vous avez sorti deux coffrets DVD contenant deux anciens concerts, et vous aviez également annoncé la sortie du
Dahlia Tour Final
et du
Last Live
en version complète. Est-ce que vous avez une date prévisionnelle pour la sortie de ces deux coffrets ?
YOSHIKI
: Oui, bientôt.
(La foule des journalistes applaudit, il est tant d'effectuer la dernière session de photo. Une poignée de minutes plus tard, YOSHIKI prend la parole)
YOSHIKI
: Tout d'abord, merci beaucoup d'être venus aujourd'hui. Je suis vraiment désolé d'avoir tant de fois annulé les concerts, et... Nous nous excusons énormément pour toutes les annulations. Nous adorons la France, nous adorons les fans français, et nous comptons revenir ici pour faire un grand concert très bientôt.
* En français *
Je vous aime !
(Nouveaux applaudissements de la part du public. YOSHIKI et ToshI quittent tranquillement la salle de conférence)
Nous remercions YOSHIKI et ToshI pour cette édifiante conférence.